TCM Spotlight: Christmas Movies (Fridays in December (except the 29th) plus Christmas Eve)
Note: Only one of these movies will air on TCM.  TCM will also air its original documentary TCM Night at the Movies: Merry Christmas featuring a look of some of the most iconic Christmas movies of all time.  Interviewees include Karolyn Grimes, who played Zuzu in It's a Wonderful Life and Margaret O'Brien.
Mariah's Picks
Never Say Goodbye (1946-December 2 @ 4:15am/3:15am c)
Watch Errol Flynn in a modern-day comedy as a father who teams up with his little girl to try to reunite with his ex-wife.
---
A Christmas Carol (1951-December 8 @ 8pm/7pm c)
One of my mom's favorite Christmas movies.
---
Holiday Affair (1949-December 15 @ 10pm/9pm c)
Robert Mitchum in a rare comedy role.  He becomes part of a love triangle with Janet Leigh at the center.
---
It Happened on Fifth Avenue (1947-December 15 @ 11:45pm/10:45pm c)
An eclectic group of people gather at a rich man's house while he is south for the winter.  This time though, the rich man finds out and disguises himself so he can stay at his own house!
---
The Man Who Came to Dinner (1942-December 16 @ 2am/1am c)
What happens when the world's worst houseguest breaks his leg on your property and he has to stay with you while he recuperates?  All Hell breaks loose.
---
Christmas in Connecticut (1945-December 22 @ 8pm/7pm c)
Barbara Stanwyck is a columnist who is touted as "the greatest cook in the country" and seems to have it all-a home in the country, a husband, and an infant.  Turns out, it's all a big lie.  Stanwyck and her editor have cooked up the entire backstory and are able to get away with it until the publisher decides to have her and her husband host a WWII hero as a publicity stunt and he will join them as well for Christmas.  Stanwyck has to think fast to save her job.
---
Little Women (1933-December 24 @ 6am/5am c)
As Katharine Hepurn later said, "no role fit me better than Jo March."
---
The Bishop's Wife (1947-December 24 @ 8pm/7pm c)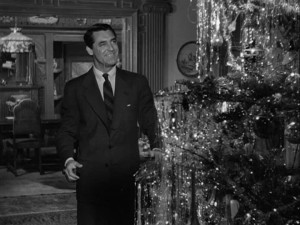 The movie from the first image that will be shown on TCM.
---
---
Star of the Month: Lana Turner (Tuesdays in December)
TCM Backlot members chose the MGM glamour queen as the last Star of the Month of 2017.  TCM presents 44 films spanning from Turner's early years to the very end of her career.
Mariah's Picks
They Won't Forget (1937-December 5 @ 8pm/7pm c)
It all started with a tight sweater and a walk.
---
Ziegfeld Girl (1941-December 6 @ 2:45am/1:45am c)
Turner's dramatic breakthrough.
---
The Postman Always Rings Twice (1946-December 12 @ 8pm/7pm c)
I watched this two summers ago at a movie palace with a packed audience.  When Turner entered, I heard a guy say "WHOAH."
---
The Three Musketeers (1948-December 12 @ 10:15pm/9:15pm c)
Lana's first time in color.  She is also the villian.
---
Peyton Place (1957-December 19 @ 8pm/7pm c)
Turner's only Oscar nomination.
---
Imitation of Life (1959-December 19 @ 11pm/10pm c)
Lana's most popular movie.
---
The Bad and the Beautiful (1952-December 20 @ 1:15am/12:15am c)
Lana is an actress who is screwed over by producer Kirk Douglas.
---
---
TCM Spotlight: The Great American Songbook (Thursdays in December)
The Ambassador of The Great American Songbook, Michael Feinstein, hosts December's Spotlight on some of the greatest songs ever written.  Such highlights include: "The Way You Look Tonight" featured in the Astaire Rogers musical Swing Time (1936-December 21 @ 8pm/7pm c).
---
---
Produced by Alan Ladd, Jr. (December 6)
The producer who greenlit Star Wars is honored with a 2016 documentary It's Always About the Story: Conversations with Alan Ladd, Jr. and two films: 1981's Chariots of Fire and 1983's The Right Stuff.
---
---
Guest Programmer: Matt Walsh (December 11)
The Veep star joins Leonard Maltin as he selects four comedies: 1979's Being There starring Peter Sellers in an Oscar-nominated role, 1982's My Favorite Year starring Peter O'Toole in an Oscar-nominated role, 1987's cult classic Withnail & I, and the 1932 Marx Brothers classic Horse Feathers.
---
---
Treasures from the Disney Vault (December 20)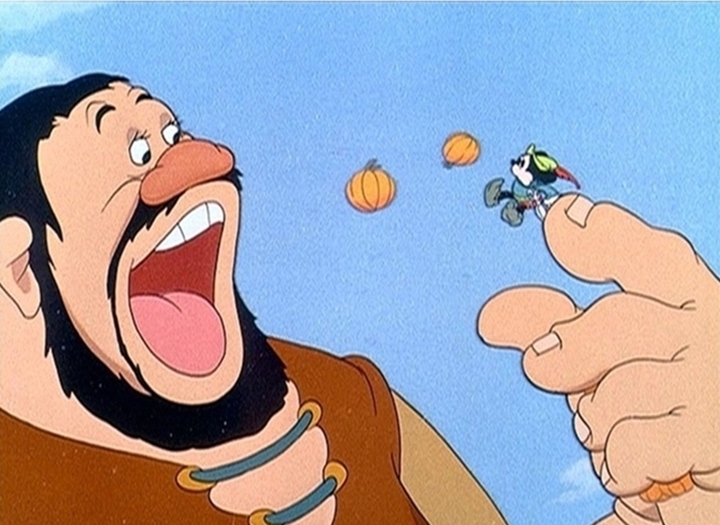 Leonard Maltin returns to host another installment in TCM's continuing series.  All 7 movies and shorts are TCM premieres.  They are the 1938 Mickey Mouse short The Brave Little Tailor followed by 1952's Robin Hood and His Merry Men, 1960's The Sign of Zorro.  Then comes 1957's Tricks of the Trade, an episode from the Disneyland TV series, and capping off the night, 1977's Pete's Dragon and 1986's Fuzzbucket.
---
---
In Memoriam (December 29)
TCM remembers the stars we lost in 2017 with a night of some of their most notable films.
Jules et Jim (Jeanne Moreau)
Died on July 31st at the age of 89.
---
Apollo 13 (Bill Paxton)
Died unexpectedly of a stroke after heart surgery on February 25th.
---
Thoroughly Modern Millie (Mary Tyler Moore)
Died January 25th less than a month after her 80th birthday.
---
Night of the Living Dead (George A. Romero)
Died on July 16 at age 77.
---
Kelly's Heroes (Don Rickles)
Died on April 6th at the age of 90.
---
---
---
The Thin Man New Year's Eve Marathon (December 31 through January 1)
Spend the last evening of 2017 drinking martinis and trying to solve the mystery before Nick and Nora Charles do.