Treehouse of Horror XXII
Segments
Best Segment: NONE OF THEM.
Quotes: Forget it.  WORST.  TREEHOUSE OF HORROR.  EVER!
---
Treehouse of Horror XXIII
Segments
Best Segment
Quotes
Homer: We have stairs?!
Lisa: (scared after one of the ghost attacks) Why is this happening to us?
Marge: (nervous) I don't know! I don't know! I'm sure I don't know!
Homer: Oh sweetie, sometimes mysterious invisible being from hell waits for a family to go to sleep and kills them. Now go to bed.
Lisa: But…
Homer: E-eh! School night!
Pope Homer: Crush them! In the name of the Jebus!
Visual Gags
---
Treehouse of Horror XXIV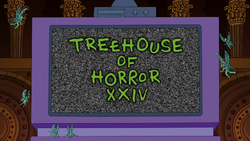 Segments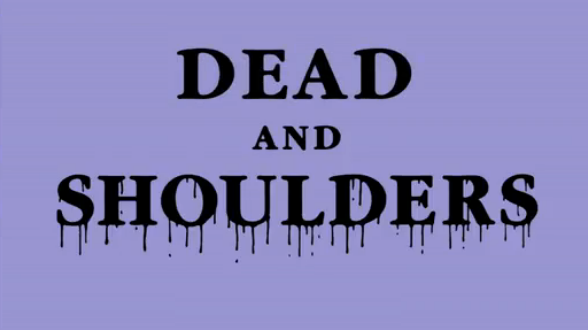 Best Segment
Quotes
Abe: You should not be here while their mother's away!
Homer: And you should be dead, you're so wrinkled and gray!
Abe: I'll give you the business, you yellow sea cow! This go-getting oldster will… Where am I now?
Ralph: That was gonna be my show-and-tell!
Moe: Hey, torso!
Barney: Huh?
Moe: What's with the cookies? Even the human snail would've been done by now.
Comic Book Guy: I am so sick and tired of people assuming that the human snail is, in some way, slow. Good day!
Moe: Excuse me, ma'am, but, uh, I ain't never seen a normal stand up for us.
Marge: (sighs) I, too, am a freak. One eye is blue, and the other a pale brown.
Visual Gags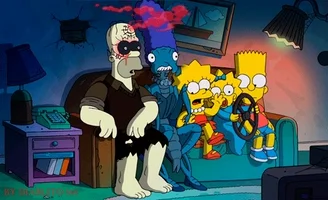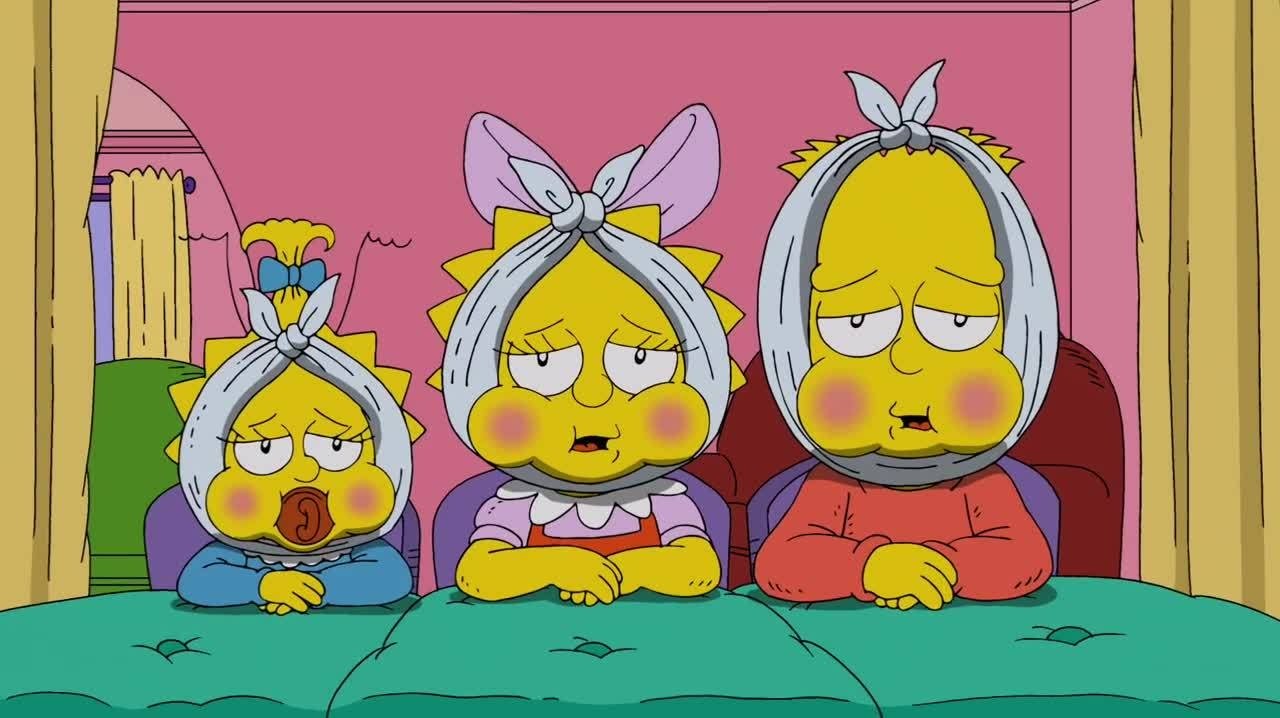 ---
Treehouse of Horror XXV
Segments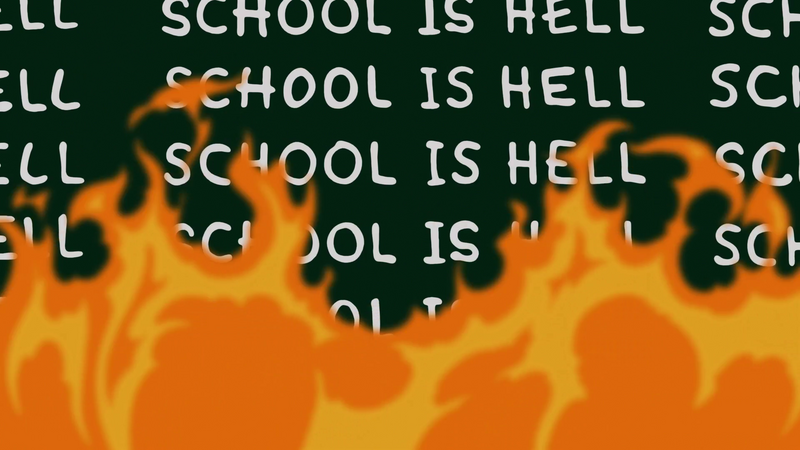 Best Segment
Quotes
Demon School Girl: Red dress. How original.
Lisa: Making fun of someone's clothes. How original.
Demon School Girl: Wow. You wanna walk with us? (snow starts falling in the middle of the hallway)
Lisa: It's true. It would be a cold day in hell when I was popular.
Visual Gags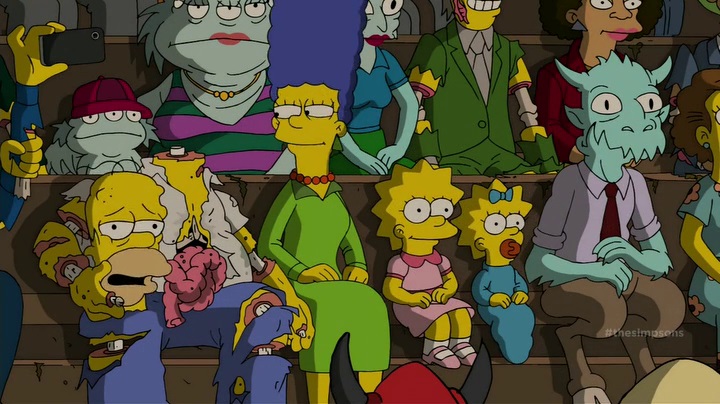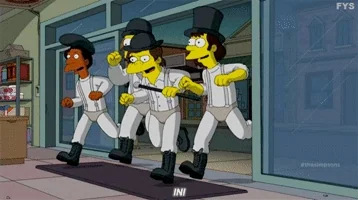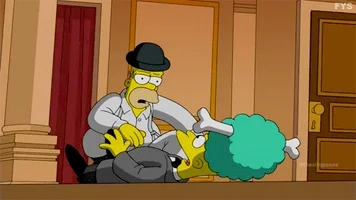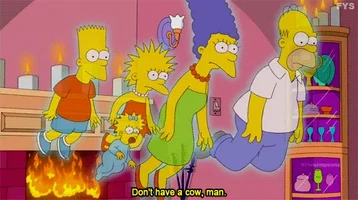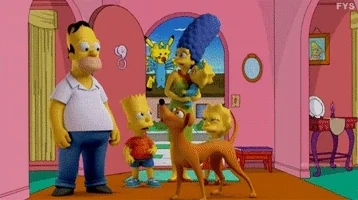 ---
Treehouse of Horror XXVI
Segments
Best Segment
Quotes
Moe: [raises his fist in anger] Ha! I still refuse to admit the old man was right! [the monster's fire breath incinerates him to a skeleton] Legitimate difference of opinion. [one more fire breath reduces him to ashes]
Kang: Just 'cause it looks like Season 4 doesn't MAKE it Season 4!
Visual Gags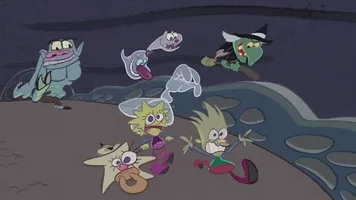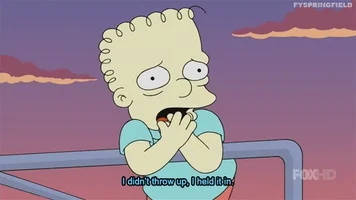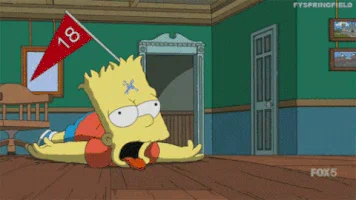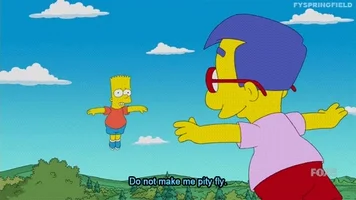 ---
Treehouse of Horror XXVII
Segments
Best Segment
Quotes
(Sideshow Bob gets out from behind a tree)
The Simpsons: Aah!! Sideshow Bob!
(Kang or Kodos gets out from behind a tree)
The Simpsons: Aah!! one of you, guys!
(The ghost of Frank Grimes emerges from the ground)
Marge, Bart and Lisa: Frank Grimes?
Homer: Who?
Frank Grimes: I'm the guy who hated you. Hated you! Died from my hatred of you!!
Homer: (giggles) Good old Grimey.
Frank Grimes: Will nobody stop these people? (clips from all previous episodes appear and a counter goes from 1 to 600). Wow. In Hell they make you watch them all in a row!
Seymour Skinner: Welcome, children! The Games will begin in ten seconds! Do not step off your pedestals before…
Ralph: Before what? (explosion) Wee!!
Ralph: I'm a god in this reality!
Lisa: (crying at Janey's funeral) Why? Why did my best friend have to die!? (sobs) I mean, it's a great college essay, but it's not worth it.
Rev. Lovejoy: We now bury Sherri and Terri, survived by their brothers, Jerry and Larry, and their father and mother, Barry and Mary. And now some light remarks by comedian Drew Carey.
Chief Wiggum: Lisa Simpson, you are the prime suspect in the murders of two normals and a twin set!
Lisa: Come on, we got to save Mom!!
Bart: Come on, imagine a motorcycle to get us out of here!!
Lisa: My imagination isn't that powerful.
Bart: You imagined a girl that's killing everyone in town!
Lisa: Good point.
Lenny: So, how did things go in Prague?
Carl: Oh, quite well. I "canceled" a few Czechs.
Moe: Of course. Remoh spelled backwards is Homer!
Homer: It is!? Uh… I mean, it's intentional.
Visual Gags
---
Treehouse of Horror XXVIII
Segments
Best Segment
Homer ATE HIMSELF…TO DEATH.  He was so lazy that he couldn't go to the grocery or eat out or order pizza!
Quotes
Marge: Maggie, sweetie. You should be in bed.
[Maggie is revealed to be possessed by Pazuzu]
Maggie: No one leaves alive!
Marge: Ooooh, her first words!
Dr. Hibbert: Someone's starting their terrible twos.
Maggie: Someone's having an affair with his nurse!
Priest: Well, if you can't trust a Catholic Priest with a child, who can you trust?
Lisa: So, anyone wanna pick up litter at the park today? How 'bout you, Maggie?
Marge: She's still got a touch of Pazuzu.
Marge: How can you be so carefree? I bore both those children.
Homer: Marge, I don't listen to a lot of your stories, but I wouldn't call them boring.
Choir: Hey you ate you!  Yes you ate you!
Homer: Do you have any spaghetti with my balls? Uh, meatballs?
Ned: Are you eating forbidden fruit?
Homer: [disgusted] Fruit? Ugh!
Mario Batali: He wanted to me to pass on these final words. "I've failed as a man, but I've succeeded as an ingredient."
Bart: I call the brain!
Visual Gags