Here's what coming in July on TCM.
STAR OF THE MONTH: STEVE MCQUEEN (THURSDAYS IN JULY)
TCM spotlights 16 films from "The King of Cool" starting with his first starring role in 1958's The Blob (July  5 @ 8PM/7PM) and ending with 1978's An Enemy of the People (July 27 @ 3AM/2AM).  Who knows what McQueen's career could have been like if he had not died so young at the age of 50.
---
TCM SPOTLIGHT: 50 STATES IN 50 MOVIES (MONDAYS AND TUESDAYS IN JULY)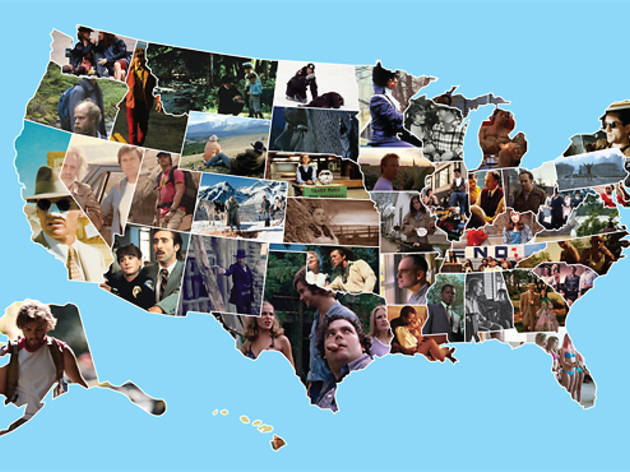 If you can't or don't want to (it's very hot and humid outside!) travel this summer, TCM has you covered with 50 films (plus one extra!) representing their home state, even though most films were set in one location, but filmed in another.
Alabama (The Phenix City Story-July 10 @ 12:30AM/11:30PM)
Shot on location.
Alaska (The Silver Horde-July 31 @midnight/11PM)
Shot on location.
Arizona (Alice Doesn't Live Here Anymore-July 30 @ 10PM/9PM)
Arkansas (A Face in the Crowd-July 18 @ 1AM/midnight)
California (The Graduate-August 1 @ 3:45AM/2:45AM)
Colorado (The Unsinkable Molly Brown-July 25 @ 4:15AM/3:15AM)
Connecticut (Christmas in Connecticut-July 4 @ 2AM/1AM)
Delaware (Meet the People-July 4 @ 4AM/3AM)
District of Columbia (Mr. Smith Goes to Washington-July 10 @ 4AM/3AM)
Florida (Key Largo-July 10 @ 8PM/7PM)
Georgia (Wise Blood-July 10 @ 10PM/9PM)
Hawaii (From Here to Eternity-August 1 @ 1:30AM/12:30AM)
Idaho (Duchess of Idaho-July 31 @ 1:15AM/12:15AM)
Illinois (The Front Page-July 17 @ 3:45AM/2:45AM)
This version.
Indiana (Some Came Running-July 17 @ 1:15AM/12:15AM)
Shot on location.
Iowa (The Music Man-July 17 @ 8PM/7PM)
Kansas (In Cold Blood-July 24 @ 2:30AM/1:30AM)
Kentucky (The Story of Seabiscuit-July 11 @ 4:45AM/3:45AM)
My home state.
Louisiana (All the King's Men-July 18 @ 5:15AM/4:15AM)
Maine (A Summer Place-July 2 @ 8PM/7PM)
Remember the famous theme song!
Maryland (Shipmates Forever-July 4 @ 5:45AM/4:45AM)
Massachusetts (Little Women-July 3 @ 3:30AM/2:30AM)
It's this version.
Michigan (Anatomy of a Murder-July 16 @ 10:15PM/9:15PM)
Minnesota (Cass Timberlane-July 17 @ 6:45AM/5:45AM)
Mississippi (Cat on a Hot Tin Roof-July 18 @ 3:15AM/2:15AM)
Missouri (Meet Me in St. Louis-July 17 @ 10:45PM/9:45PM)
Montana (A River Runs Through It-July 24 @ 11:30PM/10:30PM)
Nebraska (Boys Town-July 24 @ 5AM/4AM)
Nevada (Ocean's Eleven-July 31 @ 3:15AM/2:15AM)
New Hampshire (Lolita-July 2 @ 10PM/9PM)
New Jersey (On the Waterfront-July 3 @ 10PM/9PM)
New Mexico (Them!-July 30 @ 8PM/7PM)
New York (King Kong-July 3 @ 8PM/7PM)
North Carolina (Bright Leaf-July 9 @midnight/11PM)
North Dakota (The Purchase Price-July 24 @ 10PM/9PM)
Ohio (The Man Who Came to Dinner-July 16 @ 8PM/7PM)
Oklahoma (Cimarron-July 23 @11:30PM/10:30PM)
This version
Oregon (Seven Brides for Seven Brothers-July 31 @ 8PM/7PM)
Pennsylvania (The Philadelphia Story-July 3 @ midnight/11PM)
Rhode Island (High Society-July 3 @ 6AM/5AM)
South Carolina (Conrack-July 10 @ 2AM/1AM)
South Dakota (Badlands-July 24 @ 8PM/7PM)
Tennessee (A Walk in the Spring Rain-July 11 @ 2:30AM/1:30AM)
Shot on location.
Texas (Giant-July 23 @ 8PM/7PM)
Shot on location.
Utah (Wagon Train-July 30 @ midnight/11PM)
Vermont (Mr. Deeds Goes to Town-July 3 @ 1:15AM/12:15AM)
Virginia (Shenandoah-July 9 @ 8PM/7PM)
Washington (It Happened at the World's Fair-July 31 @ 10PM/9PM)
West Virginia (The Night of the Hunter-July 9 @ 10PM/9PM)
Wisconsin (Primary-July 17 @ 5:45AM/4:45AM)
Wyoming (Spencer's Mountain-July 25 @ 2AM/1AM)
---
HAPPY INDEPENDENCE DAY!
TCM airs some of the channel's favorite 4th of July movies including Yankee Doodle Dandy (8PM/7PM), The Scarlet Coat (2:30PM/1:30PM), and The Devil's Disciple (6:30PM/5:30PM).
---
REPUBLIC REDISCOVERED (JULY 6)
TCM presents a night of films produced by Republic Pictures including two TCM premieres-1946's That Brennan Girl (8PM/7PM) and 1948's The Inside Story (9:45PM/8:45PM).  Republic was founded in 1935 by Herbert Yates and it specialized in Westerns, serials, and B films.  The company released several John Ford-directed pictures in the 1940s and 1950s including the Oscar-nominated The Quiet Man.  The company ceased production in 1958.
---
COMEDY TEAMS (JULY 11)
TCM features a night with some of Classic Hollywood's most popular comedy teams including the Marx Brothers and Abbott & Costello and some lesser knowns such as Wheeler & Woolsey.
---
SLAVERY IN FILM (July 18 & 25)
Ben Mankiewicz and film historian Donald Bogle introduce seven films which deal with the manner in which portrays slavery. This does include Gone with the Wind (July 18 @ 8PM/7PM) which has been the subject of even more controversy in the past few years.
---
LEONARD BERNSTEIN CENTENNIAL CELEBRATION (JULY 20-22)
TCM celebrates the centennial of the music legend with three films he composed for the soundtrack and 12 specials.  The three films (which air on the 20th-21st) are West Side Story (8PM/7PM), On the Town (10:45PM/9:45PM), and On the Waterfront (12:30AM/11:30PM).