Monster of the Month: Dracula (Sundays in October)
TCM celebrates the man with the fangs spanning 50 years and 12 pictures.
Mariah's Picks
Dracula (1931-available on TCM on Demand/WATCH TCM app)
Bela Lugosi is arguably the best and most remembered Dracula.  The 1931 film was made in English and Spanish.
---
Dracula's Daughter (1936-available on TCM on Demand/WATCH TCM app)
Gloria Holden is The Prince of Darkness' little girl.
---
Horror of Dracula (1958-October 15 @ 8pm/7pm c)
Would you believe Christopher Lee is only onscreen for seven minutes?
---
---
TCM Spotlight: Classic Horror (Tuesdays in October)
It's time to get into the Halloween spirit with these classic monster movies from the 1930s to the 1960s.  Every Tuesday night is a different decade.
Mariah's Picks
Frankenstein (1931-October 3 @ 8pm/7pm c)
Boris Karloff remains the definitive Frankenstein.  Watch his debut and find out what happens in this scene with The Creature and the little girl.
---
Bride of Frankenstein (1935-October 3 @ 9:30pm/8:30pm c)
A rare sequel that is arguably better than the original.
---
Cat People (1942-October 10 @ 8pm/7pm c)
A bride is obsessed with the fear of turning into a panther if she gives into passion.
---
I Walked with a Zombie (1943-October 11 @ 12:30am/October 10 @ 11:30pm c)
A loose adaptation of Jane Eyre set in the West Indies.  Involves voodoo.
---
Carnival of Souls (1962-October 25 @ 2am/1am c)
A woman has strange things happen to her after a car accident.
---
The Haunting (1963-Halloween @ 9:30pm/8:30pm c)
Watch this one, not the remake.
---
---
Star of The Month: Anthony Perkins (Fridays in October)
Norman Bates makes his SUTS debut with 13 films.
Mariah's Picks
Friendly Persuasion (1956-October 6 @ 9:45 pm/8:45pm c)
Perkins received his only Oscar nomination for his portrayal of the eldest son of a Quaker family who enlists in the Civil War. Gary Cooper co-stars.
---
Psycho (1960-October 27 @ 8pm/7pm c)
Perkins most famous role and it typecasted him for the rest of his career.
---
Pretty Poison (1968-October 27 @ 10:15pm/9:15pm c)
Perkins is a recently released mental patient who meets teenager Tuesday Weld who is crazier than he is.
---
---
George Pal (October 11 and 12)
One of the most highly regarded and honored science fiction filmmakers is celebrated by TCM over two nights.
Mariah's Picks
The Time Machine (1960-October 12 @ 1am/midnight c)
Pal directed this faithful adaptation of H.G. Wells' novel.  The film won a Best Special Effects Oscar.
---
---
Guest Programmer: Todd Haynes (October 19)
The film director selects four films which he studied in preparation for his upcoming film Wonderstruck, which will be in theaters on the 20th.  Haynes chose the following:
The Crowd (1928-October 19 @ 8pm/7pm c)
A young man tries to survive setbacks in his life.
---
Sounder (1972-October 19 @ 10pm/9pm c)
A sharecropper's family fights to survive the Great Depression after he is arrested for stealing food to give to his family.
---
The Night of the Hunter (1955-October 20 @ midnight/October 19 @ 11pm c)
Rober Mitchum is the world's worst stepfather.
---
Walkabout (1971-October 20 @ 2am.1am c)
An Aborigine helps two kids lost in the desert.
---
---
Noir Alley (Sunday mornings in October)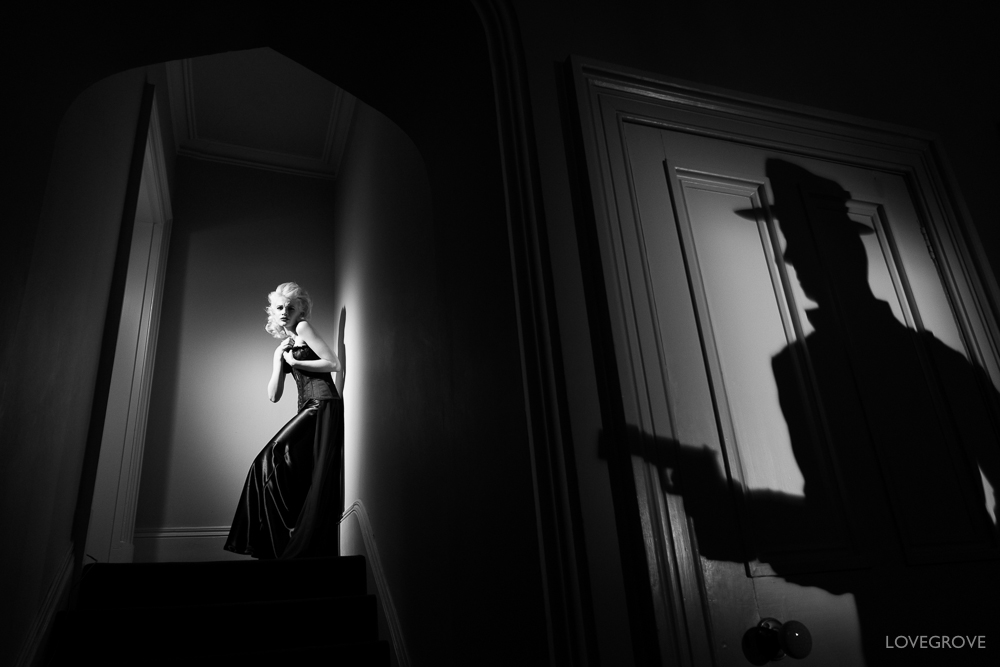 Have you bought the new Batman in Noir Alley comic book?  Well, you can get it for free at your local comic book store.  Later this month, TCM will launch Noir Alley: 360° of Noir, a virtual experience allowing fans to solve crimes in the film noir world.
Possessed (1947-October 1 @ 10am/9am c)
Joan Crawford is a woman who marries her employer Raymond Massey, but is still hung up on ex Van Heflin.
---
They Won't Believe Me (1947-October 8 @ 10am/9am c)
Robert Young plays against type as a gold-digging stockbroker juggling his heiress wife and two girlfriends.
---
Side Street (1950-October 15 @ 10am/9am c)
Frustrated postal worker Farley Granger steals $30,000 from a crooked lawyer and lives to regret it.
---
Raw Deal (1948-October 22 @ 10am/9am c)
Framed man Dennis O'Keefe kidnaps social worker Marsha Hunt (100 years young on the 17th!) and goes on the run with girlfriend Claire Trevor.
---
The Strange Love of Martha Ivers (1946-October 29 @ 10am/9am c)
Barbara Stanwyck is a woman who rules her manufacturing town with an iron fist.  Kirk Douglas makes his film debut as her weak, alcoholic husband.