The divine Miss Stanwyck has 14 films this Sunday including one TCM premiere 1953's All I Desire.
Mariah's Picks
The Lady Eve (1941-noon/11 am c)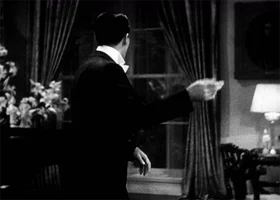 This is just one of four pratfalls Henry Fonda has in less than 30 minutes of screen time.
---
Ball of Fire (1941-2 pm/1 pm c)
Stanwyck was nominated for a Best Actress Oscar (in reality, she had three iconic performances in 1941, including earlier pick The Lady Eve.  The other film, Meet John Doe is not on the schedule, but you can view it online.)  for her portrayal of a stripper who hides out in the home of eight professors, one of whom is Gary Cooper.
---
Baby Face (1933-1:30 am/12:30 am c)
For anyone who thinks that old movies are dull and boring, show them this film which features Barbara as a woman who literally sleeps her way to the top.  Do not think that she is a victim, her character Lily Powers is firmly in control.